Mar 4, 2020
6,866
First Name

Joe
Willys Model

Pickup
Willys Year:

1957
Don, I mean this as a compliment. Your attention to detail is going to make some future owner of Willa Dean and Chuffy a very pleased Willys owner.
Question on the captured nut. On Jab's picture, is the nut inside the tubing or is the nut missing?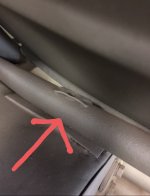 Initially I thought the nut was inside the tubing and that is why you wrote about cutting a square hole. But then your following pictures look like your captured nut is outside the tubing.