Mar 23, 2018
7
First Name

René
Willys Model

Other
Willys Year:

1961
[FONT=&amp]Hello,
I am René from the Netherlands.
I hope you understand the crappy English i use, as i am Dutch.
Me and my son Chevy have bougt a full size 1961 Willys little firetruck, Chassis code 5516823312, wide track and 118 inch wheelbase. (Picture below, the foodtruck stickers are from formal owners. We still haven't found the right and correct factory type-name of this really full size FireTruck, being not a pick-up, wich in all means is bigger than the Willys Stationwagon!)
We like Firetrucks because they often look good, are taken care for and often have very useful, versatyle body's, but in Europe 90% off the firetrucks are way to big for city use, exept this very rare Willys truck.
This one has a wheelbase of 118" inch, or close by, and has a rare handmade closed 8-door steel body.
Originally, i believe, it had a 3.7 L 6-226 super Hurricane F-head 2 and a 3-speed BW T 90.
But, regretfully it is not original. Someone put a large lump IH International 345 V8 from IH Scout II (80's era?) together with its 4-speed BW T19.
It stil has his original ofset diff rear axle Dana 53 with 538 ratio, front-wheel drive has been removed and it has no transfer case any more.
The drive shaft now comes central from the T19 gear box, diagonal to the original off-set diff of the Dana 53.
I know this is not ideal but in the Netherlands we have, and we know so little about these old big Willys, that one has not been able to finnish the engine-swap in a decent, correct way.
The firetruck is fun, BUT the engine revvs way to high, at tops 45 to 50 Mls/h, and that is no fun.
We do not use it off-road, but more as little camper-truck. It being a nutered 4WD, now a 2WD, is not an issue. (would be cool to build it back to 100% original, with a better ratio, but i can not see that happening over here.)
With this set-up we are aiming for a rear axle ratio of 3.00 to 4.00 max. (We are not affraid to swap ratio ring and pinion, but the org. Dana 53 has no better ratio than 538;1)
Me and my son are figuring out how we can alter drive-train ratio's. Remember there is little knowlidge and the right Willys parts (wide track!)are rare.
We have been puzzeling a lot with options available locally.
-We found a Dana 44 from a 2001 Dodge Ram Van 1500 with drumbrakes and right Wms to Wms. The ratio shall be correct for our highway use, because its a passenger van, and it has no off-set diff.
-We foud Dana 20 transfer case but no one knows if it will fit the BW T19 (something with in/out going shaft differences, may be). A transfer case would be cool because maybe one can add a 75% overdrive to the transfer case.
-We foud no matching Jeep axle, nor transfer case nor did we find a suiteable transfer case. The hunt for alternative or original parts is made difficult because this Willys is larger and wider than a common full-Size jeep of any kind, as far as we found out.
- We have been looking at the In the Netherlands no one even knows that there are different sizes wms-to-wms on Jeeps CJ and even Wagoneers, not even specialists. Specialists over here just order everything as new and very expensive matching sets. That is way to expensive, we have a budget of about 1000.00 bucks, but more for the right pieces.
Any help appreciated. I will post this on an appropriate thread when i got used to and find my way within this forum.
Any ideas deeply appreciated.
[/FONT]
�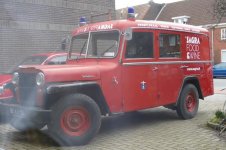 Last edited: