Founder/Owner
Staff member
Administrator
Sep 17, 2009
7,162
First Name

Pete
Willys Model

Wagon
Willys Year:

1960
My wagon has finally arrived in Idaho after nearly two months of trying to get it shipped from Arkansas.
I bought this wagon sight unseen, from a slew of pictures and phone conversations with the seller. I felt pretty good about it, it seemed like it was just what I was looking for- A decent driver that needed some weekend tinkering and new interior.
The wagon arrived at my place at 4am on Friday morning, while I was away on a ten day trip. My wife got the job of crawling out of bed to pay Marcy the driver and get the wagon into the driveway.
I got home late Saturday night from my trip through Glacier Nat'l Park with my nine year old son, and couldn't wait to crawl over the wagon and see what I'd done to myself... :shock:
My first reaction was... :roll: and oh sh!t, this thing is a pile, not at all what I wanted it to be.
I didn't want a project, I wanted a driver. This wagon is somewhere in-between. It runs and drives, but it has a hundred little things that need to be addressed before I hit the road with it.
The Good-
It's here. It's mine. I have something I can work with. The body seems to be relatively un-rusty. The rear wheel openings and tail-gate don't look too bad. It is fairly clean inside and out, and hasn't been molested with holes everywhere or doo-dads added here and there. It looks pretty good sitting on the street.
The tires have decent tread on them, but they have lots of dry-cracking. They will do for now.
Looks like it has a new fab'd gas tank. New wiring, decent mirrors, some new rubber on the windows, etc.
The engine starts and runs ok, doesn't seem to smoke.
Transmission, clutch, and transfer case seem to shift and work fine.
Not too many leaks, mostly just the transfer case.
The floor repairs that were done aren't the best, but will do just fine until I can clean them up.
The Bad-
The engine runs ok, but it doesn't sound that good in the bottom end to my ear. It has a "box of hammers" sound when it revs or when letting off the gas... It was rebuilt in '94, from what I can tell it had new pistons/rings bored .030 over, and new bearings.
It has both a mechanical and electric fuel pump, the electric pump sounds like a Cessna ready for take-off. Don't know if the other pump works or not.
I checked the oil in the engine and it was about two quarts low, and black as tar....
There's a bunch of little stuff missing, like the complete ebrake system, the hood safety latch bolt, the complete windshield wiper system, etc.
The wiring is all new, but isn't as clean as I'd have done it. Some stuff not done like heater wiring, dome light is a stupid RV unit, a couple of unknown toggle switches in odd places, passenger tail light is wired backwards (brake and tail reversed).
The stainless trim is completely matt with no shine. Some of it is barely hanging on with bad clips. Some of it is dented here and there. I can polish the stainless, so no worries there, but the dents will have to stay. The chromed pot metal bits are pitted and or cracked/broken in some places. Small stuff, but stuff that I'll want to fix over time.
The upholstery is a redneck hunter's wet dream... CAMO, Baby! The seats are hard as a rock, like the springs were removed and replaced with some kind of hard stuffing.
The Ugly-
One of my goals was to find a wagon that needed little or no bodywork (I know, I know, dreaming...) I wanted something that had a decent enough paint job to last for five or six years at least, until I have the cash to redo it if needed. This wagon, from the pics and descriptions from the seller, seemed to fit the bill....
What I found however, bummed me out a bit. The roof appears to have had a tree land across it, running from front to back on the passenger side, and there is an oil canning area on the drivers side. It clearly was pushed up and out by one of the previous owners, probably why the headliner was removed. The apparent tree damage wasn't visible in any of the photos I got from the seller, but in one of the inside shots he sent I could see what looked like a deformation in the roof. I asked him if it had a dent in the roof, and he said no... If I had seen this, I wouldn't have bought it, I had already passed on several other wagons that had roof damage that I didn't want to deal with.
The passenger side rear quarter has also been repaired, and not too gracefully. There is visible bondo between the door and the rear wheel opening. It is passable for now, but there all the same.
There are other dings and blemishes here and there, which I expected and can live with.
The rear axle is offset to the passenger side an inch or two, and the tire rubs on the wheel opening as the suspension moves up and down. I can't put my finger in-between the tire and the body. I crawled under, and it looks like maybe the rear axle has been replaced with one from something else, and the spring perches weren't fully welded to the axle. The axle and spring perches have slid over to one side. It looks like the axle has SOA spring perches too that weren't removed, unless they are factory bump-stops?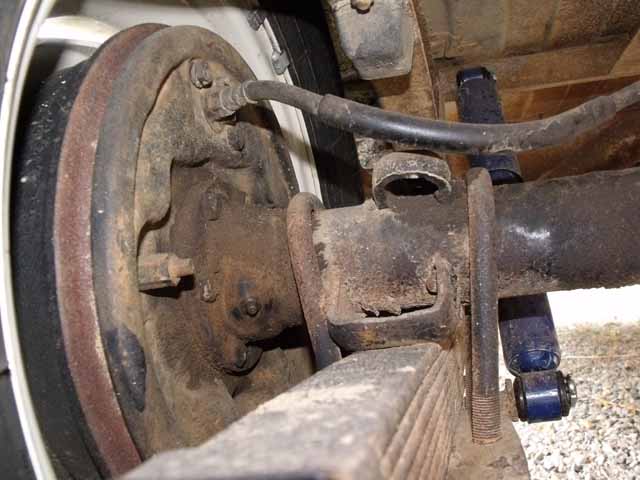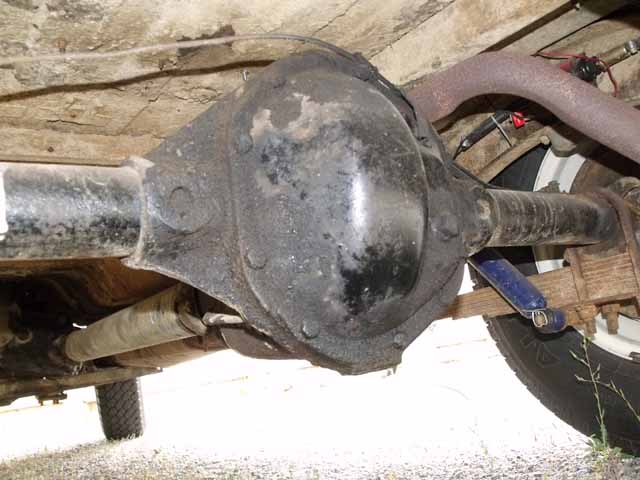 So, that's what I've got. I have only spent about an hour looking it over, and I drove it around the block. At first, I thought I'd put it up for sale and start over, but I'm over that. I feel like I paid too much, and the shipping was a complete pain in the a$$. I've bought three rigs now sight unseen. The first time I did it, I said "never again". The second time I said "NEVER again". I'll damn sure say "
NEVER
again" next time. That is, until I get the next wild hair to buy something :mrgreen: :mrgreen:
My boys are excited about digging into a project.
Before I can drive it, I will need to fix the rear axle and get the brakes bled and up to speed. I'm sure I'll have a ton of questions as I go, more to come...
Time for a few cold ones and to start the list of to-do items to get this thing road worthy. :cheers:
Pete