Sep 18, 2009
655
Willys Model
Willys Year:
I thought I would take some time to share the project that I started in 08. It is only about 1/2 way done, but I drive it daily and it is a wonderful vehicle. It is very comfortable and rides beautifully.
The next step is to put all the finishing touches on it. The list is long, but it's all really fun stuff to do. To name a few, interior panels and upholstery, interior lighting, paint, AC, custom bumpers, winch, custom rocker guards, and a dozen other things that will make this Willys truly one of a kind. I am also installing 41"x 14.50 x 17 Super Swamper IROK Radials, which will require some slight modifications to the rear fender wells. But when I am done it will look amazing and it will be ready for anything and everything. Here is a list of the major components it will have when complete:
1995 GM 5.7 from a Chevy Tahoe
Dual HushPower Flow Master mufflers
4L60E 4 speed automatic (this could changed if I don't figure out what the heck is going on with the shifting issues.)
241 w/SYE
Cruise control
Tilt column
Hydroboost and 4 wheel disc brakes
Power leather seats
Delay wipers
Air conditioning
Custom dash
AutoMeter Gauges
Power windows
Sun roof
One piece rear lift gate
Optima battery
All new glass and weather stripping and rubber components
HP Dana 60 front with Detroit and 4.56 gears, 35 spline Superior Evolution inner and out front axles with Yukon Super Joints, 35 spline Warn locking hubs, Ballistic Fab high steer arms, 1 1/2" .250 wall tie rod and drag link with ¾" rod ends
Narrowed Dana 60 rear with Detroit and 4.56 gears, dual splined 35 spline axles, redrilled and machined front Dana 60 hubs to allow 5 on 5 ½ lug pattern, 35 spline Warn locking hubs, F150 rotors, ½ ton GM disc brake, and a custom-made collar and caliper bracket
41x14.50x17 Super Swamper IROK Radials
Pro Comp Extreme 8089 Aluminum Wheels
BDS Wrangler front and XJ rear springs
Tom Woods driveshafts
Full interior cage
Custom bumpers and rocker guards
On board air
Ready Welder II
12 volt cooler
8274-50 Warn winch
iPod Stereo
Boss marine speakers
Hella headlights
LED tail lights
Off-road, fog, and trail lights
Completely rust free body
Brand new paint
Vortex bed liner sprayed on everything but the outside
Fully sound deadened
Fully upholstered/Custom interior
When I started this project I remembered that it had been about 20 years since I last owned a Willys Wagon. I thought they were the coolest vehicle ever back then and I still do. They are versatile and simple. They have a style all their own and they have plenty of room for all kinds of gear. So, I set out to find one. It didn't take long. It's like my Willys radar knew exactly where to go. Only 2 weeks after starting my search, I found a 1962 in totally original, running condition up in Garden Valley, Idaho. I drove up there to take a look and found that it was not too bad. There was some pretty bad rust on the front floorboards, but otherwise, the critical areas of the body including the front fenders, hood, and front side of the doors were almost perfect. I decided that it would work so I handed him some cash and loaded it on the trailer. I couldn't wait to get home.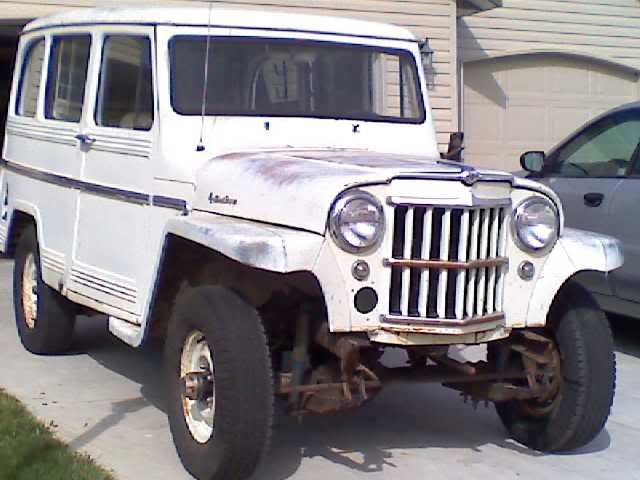 When I got it home, I couldn't resist the temptation to drive it around the block a few times before I started tearing into it. The motor ran perfectly. Everything worked as well as could be expected I suppose. Even the vacuum-powered wipers did their funky little dance across the pitted windshield. I pushed on the throttle just to watch them slow down, which brought back memories of climbing the snowy hill in my 55 wagon as I drove to my home in the mountains near Lake Tahoe. The brakes were as unpredictable as I had always remembered them being. I didn't know if it was going to pull to the left or to the right each time I pushed on the squeaky old brake pedal sticking through the rusty floor. I had to laugh the first time I tried to stop. Oh the memories.
It definitely wasn't abused in its past life, but it was in a wet climate. There was some nasty rust on the front floor boards and in all of the secret places, so I knew immediately that I would be seeking out a place that could dip the entire body in acid to eliminate it all. All I really cared about was the exterior and the overall structural integrity. The floorboards would be the easy part. I really wanted to keep driving it around the back roads for a few hours, but decided that the last ceremonial cruise had to end. It was time to step into the 21st century with this old beauty.
So, I backed it into the garage and prepped it for surgery.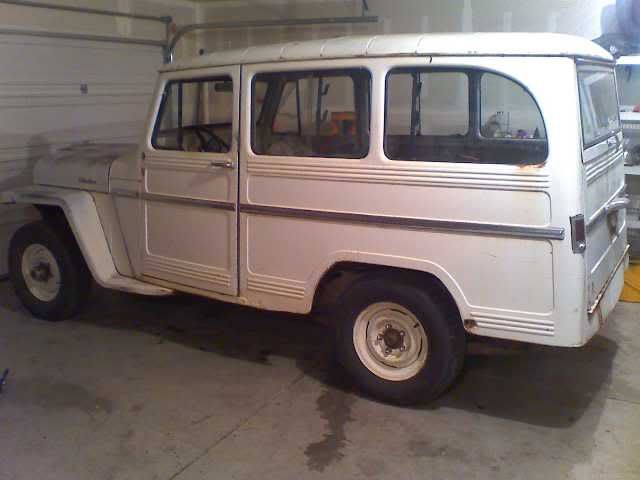 This was going to be a complete modern restoration from the ground up. I had no intentions of running any of the stock drivetrain. The motor, trans, t-case, and axles would all be removed and in their place would be a TBI 5.7 engine, a 4L60E 4 speed automatic transmission, and an NP241 t-case from a 1995 Chevy Tahoe that I bought for $1200.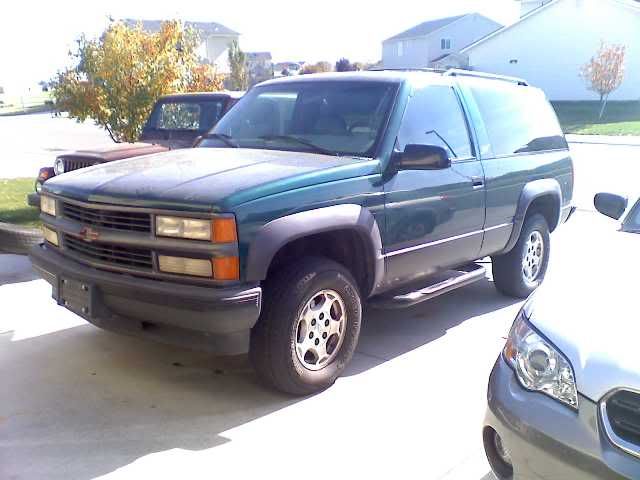 I did plan to utilize the differentials from my CJ-7/Commando rock crawler. The front axle is a custom width high pinion Ford Dana 60. A few years ago, I narrowed it approximately 8" and installed 4.56 gears, a Detroit locker, 35 spline Superior Evolution chromoly inner and outer axle shafts and Yukon Super Joints. It also has 35 Spline Warn locking hubs. I had the 8 lug hubs machined and redrilled for a 5 on 5 1/2 lug pattern. I installed Ballistic Fab high steer arms and I built a custom tie rod and drag link with 1 1/2" .250 wall tubing and ¾ rod ends. This thing is bomb proof.
For the rear axle, I have a Currie Enterprises Ford 9" differential with 4.56 gears, Detroit locker, 35 spline chromoly axle shafts, and Explorer disc brakes.
For the suspension, I decided to stick with simplicity and use leaf springs all around. I am using BDS leaf springs front and rear. Wrangler 3" springs in front and XJ 3" springs in back. They are a perfect fit for the Willys Wagon frame. I extended the front frame rails to accommodate the longer springs and power steering box. The steering system is an AGR Rock Ram System with the high output pump, new Saginaw box, and hydraulic steering ram.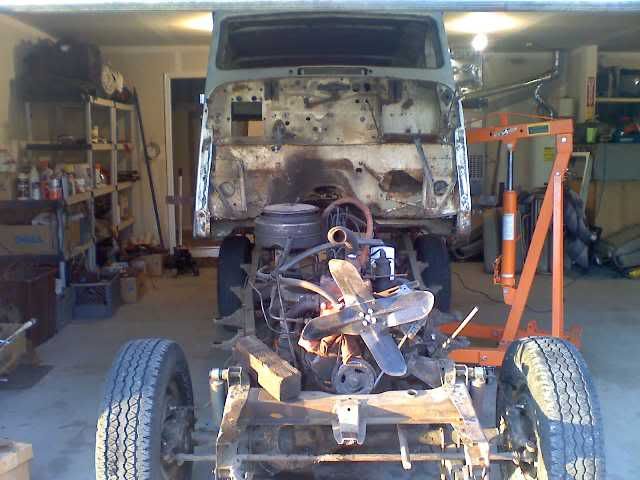 Completely stripped and ready for front floorpan replacement and other rust repairs.
Original frame ready to be stripped down.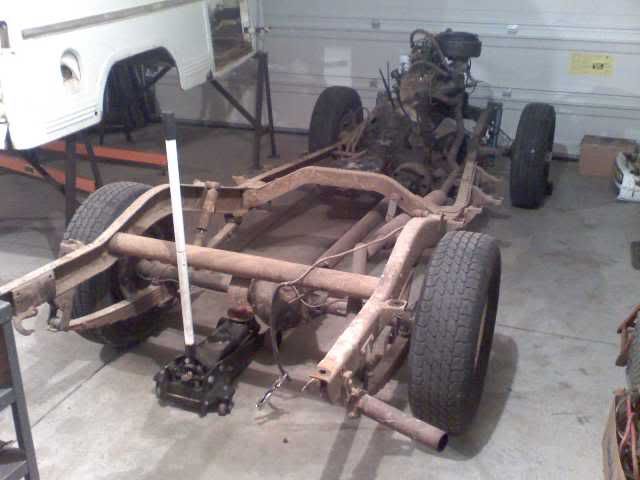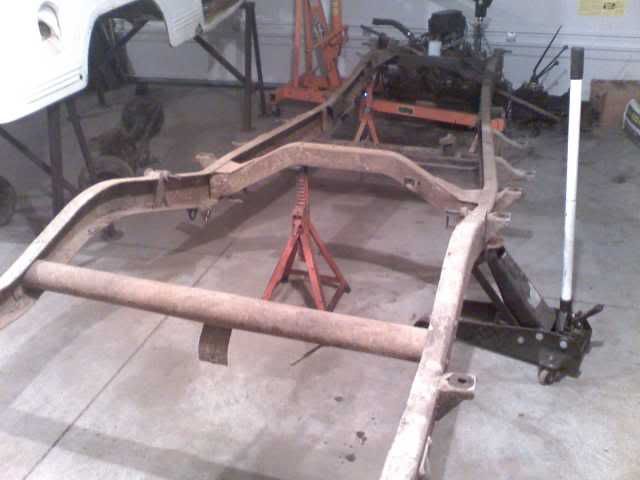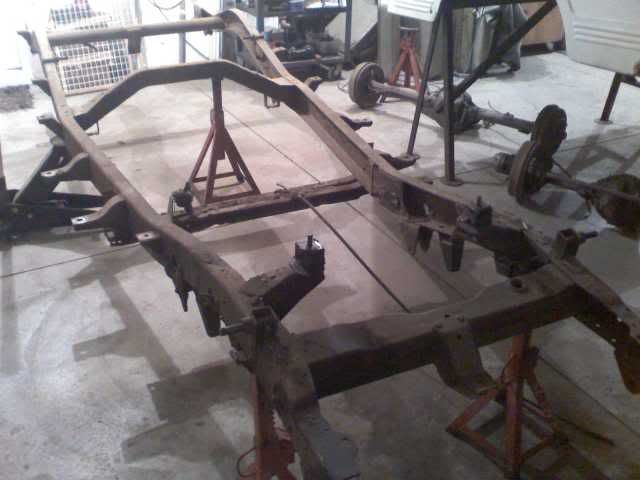 I cut the factory brackets and spring hangers off the frame. It had to be completely stripped down to build it up again.
Master cylinder bracket removal (one on the left and one on the right; for right hand drive wagons).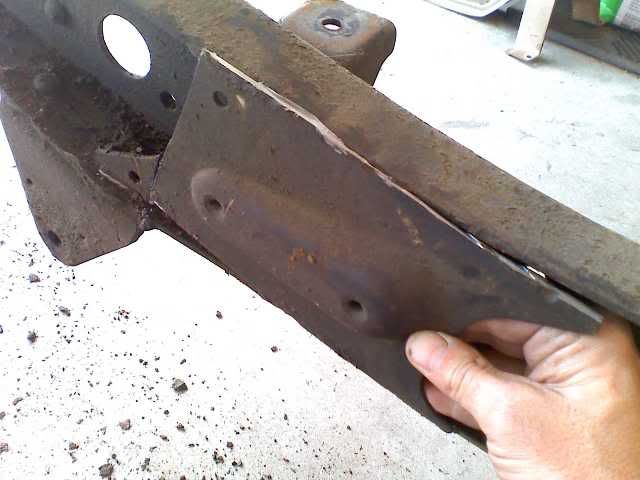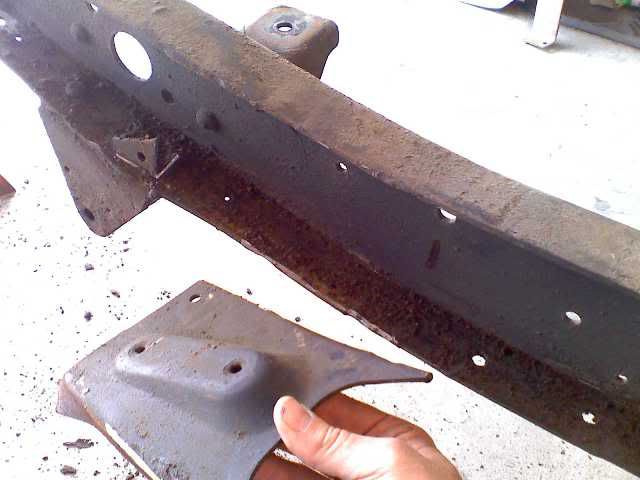 Front spring anchor removal.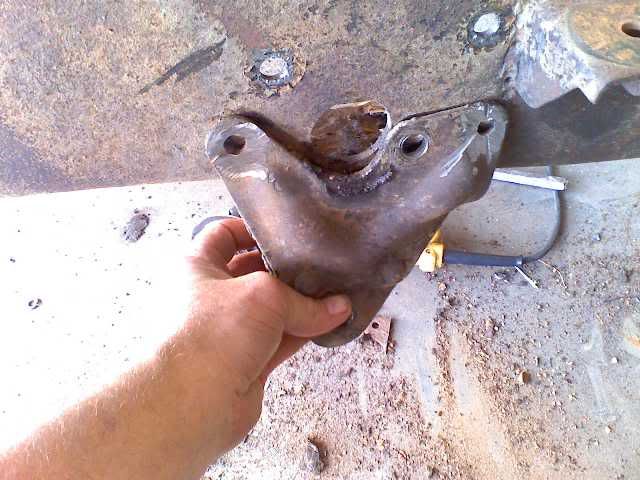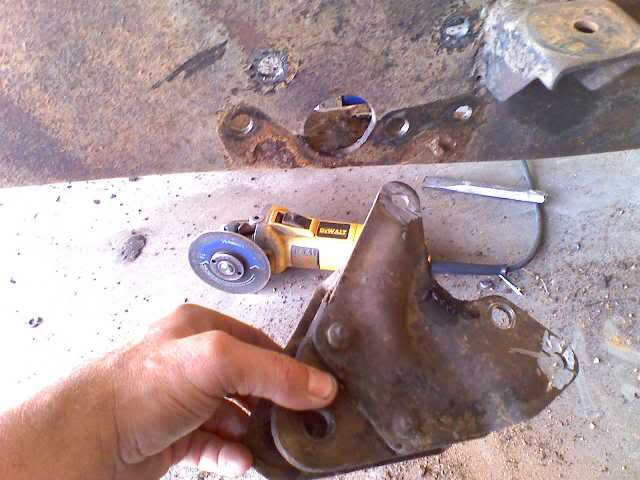 Rear spring anchor removal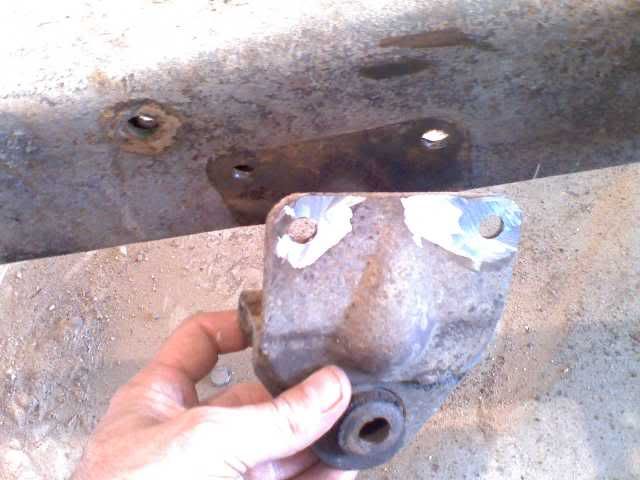 I created cardboard templates for plates to extend the frame and box it.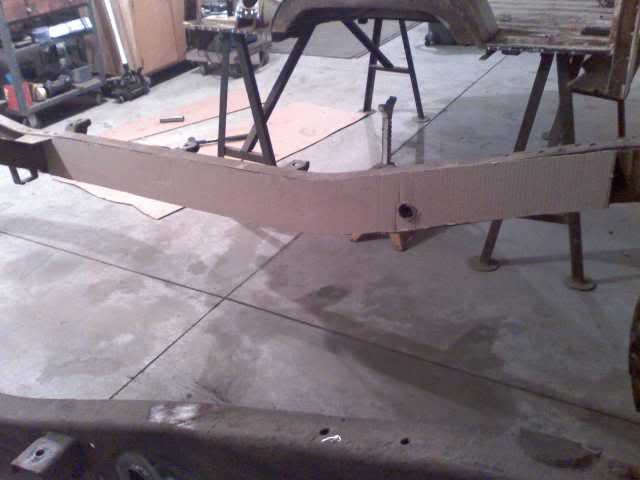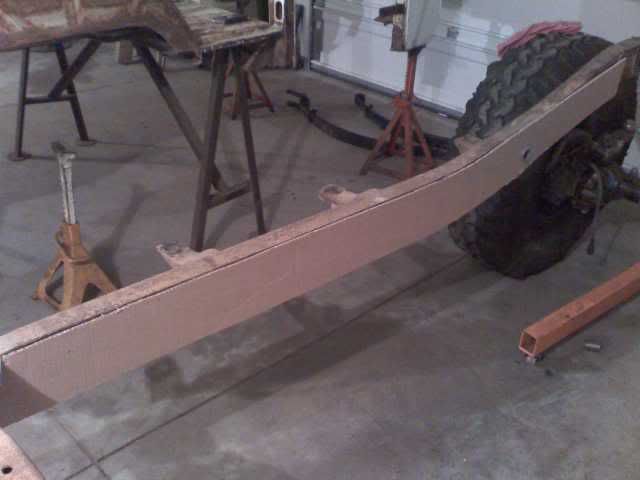 All done and ready for motor mounts and power steering box. I also got the spring anchors tacked in place and shackle reversal tubes welded through the frame. I used Wrangler spring bushings and 1 ¾" .120 wall tubing approximately 3" long.