Founder/Owner
Staff member
Administrator
Sep 17, 2009
6,504
First Name

Pete
Willys Model

Wagon
Willys Year:

1960
I finished up the bikini top for the 3 over the last few days.
Once I had the piece sewn for the channel in the windshield, I test fitted the top fabric to the widdshield and marked where they two would sew together
Here's the bead piece pinned to the top piece, ready to sew
I added a couple of snaps on the corners. The snaps were already there on the windshield frame.
I bought a couple of cinch straps with metal buckles to use for the rear tie down straps. I put them around the hoop and footman loops to figure out where they would be when the fabric is pulled tight to the tub.
For the rear piece of fabric, I sewed a seam along the hoop, to get the right angle in the fabric around the corners of the hoop. Here's the front section finished, and held in place to the straps with vice grips to check the fit.
I used a pencil to draw the shape of the cutout on the rear piece of canvas, between the straps.
And here's the finished product, with the straps sewn on to the canvas.
Happy with the way it turned out.
There's a few wrinkles in the canvas that won't pull out, but that's ok, for a quick and dirty summer top.
I also mounted a Jerry can I found on the local facebook market place, and spare tire from my wagon, behind the driver's seat. I decided I didn't want them hanging on the tail gate, since we will be wheeling this in Moab and don't want to come off of a step and mash something.
Another rear view of the top.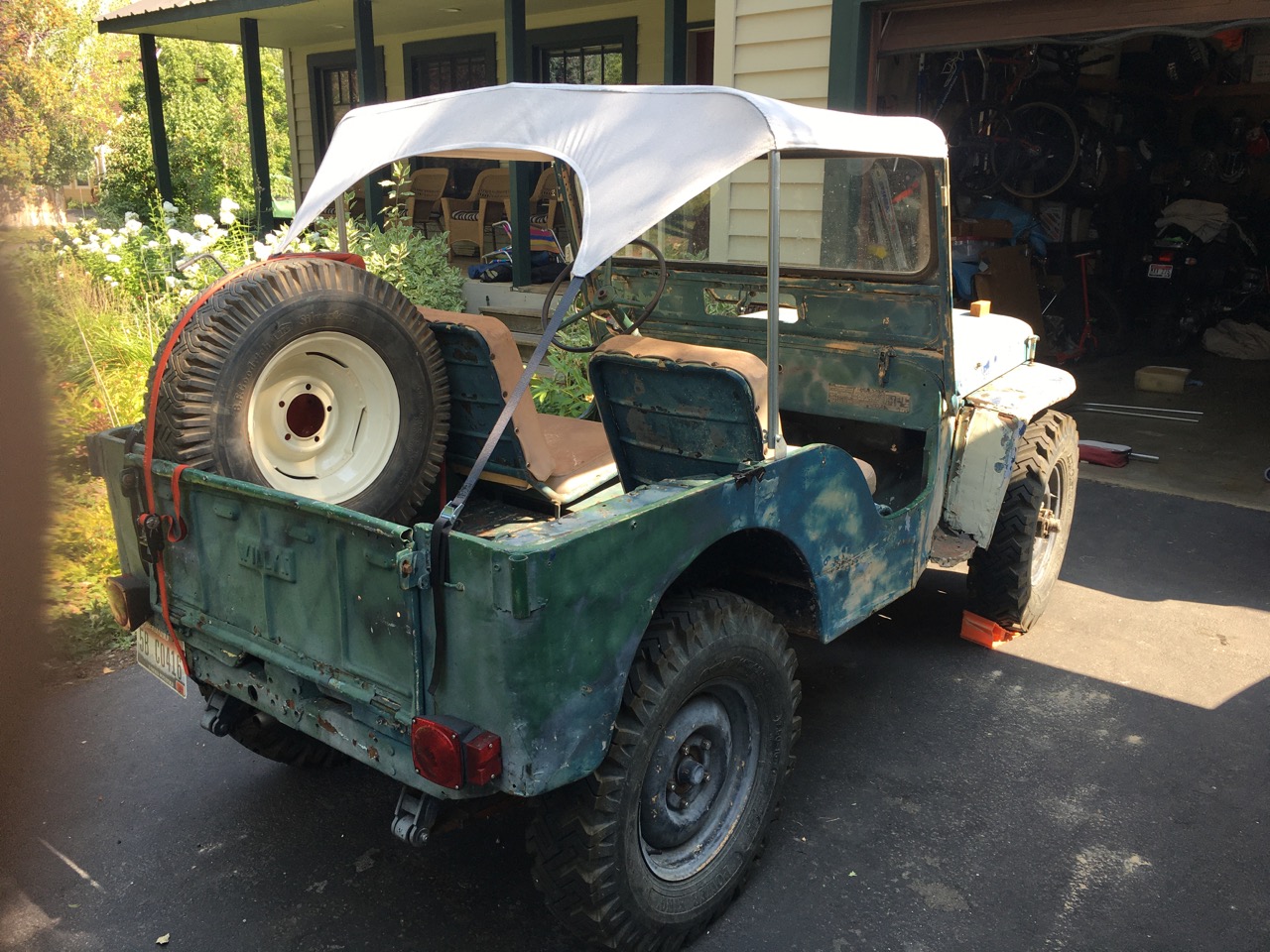 In hindsite, I would have made the hoop taller, so that when down it would wrap the back of the tub better, and I may make another taller one for this reason at some point. In order to stand the spare tire behind the seat, the hoop needs to tuck as far back as possible for the tire to fit. For now, I have to remove the bolts that hold the hoop onto the brackets, and tuck it down in side the tub. The spreader bar conveniently mounts to the tail gate through an existing hole for the bolt and wing nut.
Pete