Founder/Owner
Staff member
Administrator
Sep 17, 2009
7,162
First Name

Pete
Willys Model

Wagon
Willys Year:

1960
The first thing I need to do on my new-to-me wagon is fix the rear axle spring perches.
The axle appears to have be replaced and for some reason, the spring perches weren't welded on or weren't welded on very well. As a result, the axle has shifted to the passenger side about an inch or more. The spring perches are on the centering pins on the springs, and look like they are loose from the axle with some old booger welds in there for good measure.
I'm going to pull the axle, clean up the perches and re-weld them.
First a few questions:
Anyone recognize this axle? I don't know if it is stock or not, or much of anything about these axles...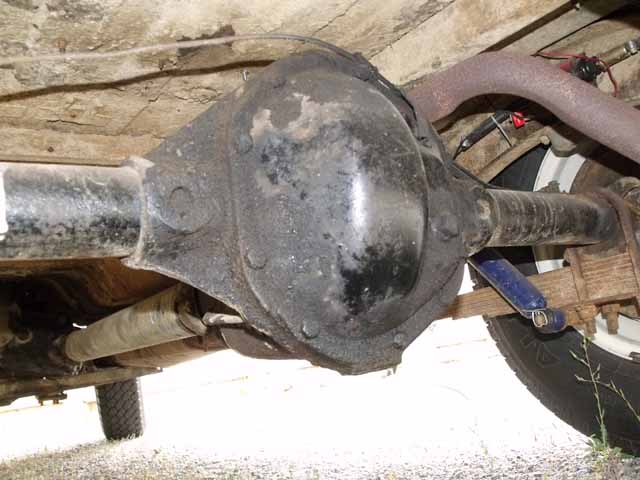 It looks like there are some old spring-over-axle perches left on the topside of the axle, unless these are factory bump-stops? Anyone have any pictures of a stock spring perch?
Before I put much effort into fixing the issue, I'd like to find out what I've got. The e-brake setup is missing from the axle, and I'd like to replace that stuff while I have it apart. I don't want to buy parts for the wrong axle. Thinking about replacing the bearings and seals while I'm at it too.
Second question is the pinion angle. Should it be parallel to the output on the transfer case?
Like this article explains?
Am I going to wish I had replaced the sagging springs before I set the pinion angle?
Third, welding... I've read various tips about welding spring perches, tack and then weld 1" increments, skip around, etc. I don't want to warp the tubes. I have a gas-less mig welder, wondering if it is up to the task. Any tips on getting everything straight? Build a jig? Put it together and tack in place, then pull and weld?
Any advice greatly appreciated...
Thanks,
Pete