Founder/Owner
Staff member
Administrator
Sep 17, 2009
7,839
First Name

Pete
Willys Model

Wagon
Willys Year:

1960
My wagon came with a Koenig PTO winch. This is the first PTO winch I've owned, so I didn't know much about it.
I did some reading on-line about these winches, learned how to operate it, etc. I also discovered that it is missing some parts.
Until I read about how it is supposed to work, I couldn't figure out how to release the drum to - the cable without slowly running it out with the engine. Turns out that it is missing the entire release assembly and drum brake.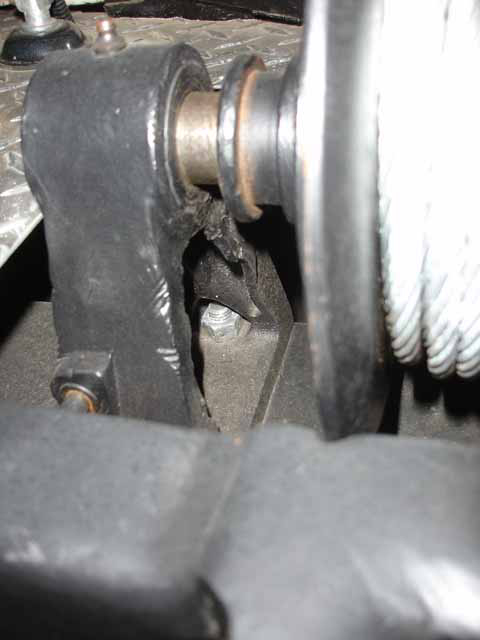 Apparently this is a common problem with these winches because there are two mounting tabs on the right "a" frame bracket that get broken off if the cable gets out of the drum and wound up along side it. You can see in the photo above that there are cable marks in the cast metal "a" frame bracket. You can also see the jagged edge of the bracket where the tabs used to be.
There is supposed to be a handle, and a "fork" that moves a sleeve back and forth on the end of the drum. When the sleeve, or clutch, is released, the brake pushes against the side of the drum to keep it from un-spooling by itself.
The drum clutch is supposed to be released unless the winch is in use, preventing it from being engauged by accident from inside, pulling the hook through the fairlead or busting the gears.
You can see in this photo that this has happened before, the diamond plate deck has a tear in it where the hook came around when it was wound in too far.
Since mine is missing the whole assembly, I have no way to release the clutch without prying the clutch to one side with a pry-bar...
I have a couple leads on some parts. If I can find the missing stuff, I think I can fab a bracket that bolts to the "a" frame to replace the ears that are broken off.
Anyone have any thoughts on this?
Pete